Home > Exhibitor > Guide to Exhibit
Guide to Exhibit
Application Deadline
April 8, 2022 (Application may be rejected if all space has been reserved)
| Type of Booth | Unit Price (USD) |
| --- | --- |
| Raw Space(9㎡) | $2,000 / Booth |
| Standard(9㎡) | $2,500 / Booth |
| Premium(9㎡) | $3,000 / Booth |
Booth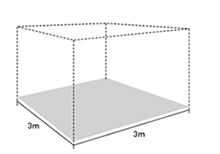 Raw space booth (3m x 3m)

· $2,000 / Booth
·The organizer provides booth space only.
Exhibitors must use one of the recommended
service contractors to build their own
custom booth.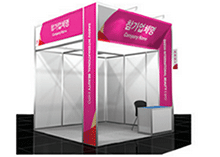 Standard booth (3m x 3m)

· $2,500 / Booth
· For the exhibitors' convenience, the host will
build the booth facilities in prefabricated
type in a lump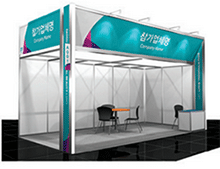 Premium booth (3m x 3m)

· $3,000 / Booth

· With an intermediate form between the fabrication-type and
independent type, this is a package booth that can display the effect of
the independent booth at a lower cost.
* At least 18m² is required.
Application Process
Account Information
Down payment

Pay the deposit(50%) within one week from the date of receiving the invoice

balance
Application for additional facilities and payment of balance by April 8, 2022
Account
WOORI BANK YUTONGDANJI BRANCH
2789-999-9018-952
Company Address : 10, EXCO-RO, BUK-GU, DAEGU, KOREA

Online Application


Click [ Online Application]

Offline Application

[Application Form]
Download the application form and send it by email or fax
E-mail: cool@exco.co.kr
Tel : +82-53-601-5456 l Fax : +82-53-601-5069